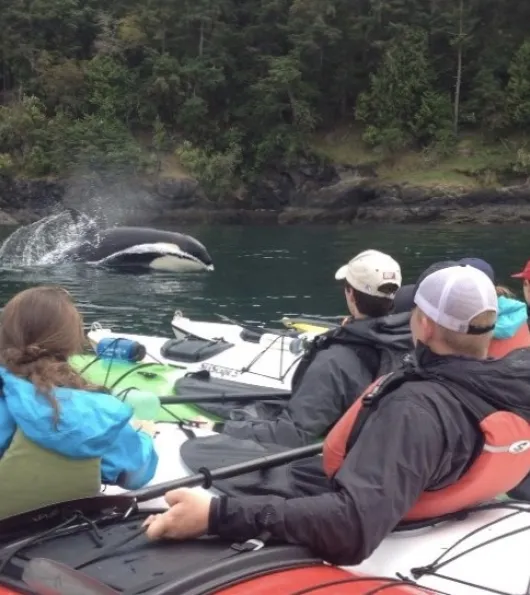 a premium multi-day tour
Paddle the Waters that make the San Juan Islands Famous
Best For: Experienced paddlers and participants who are physically fit
Traversing through the proposed "Killer Whale Sanctuary" on the west side of San Juan Island, this tour is designed to maximize wildlife sightings, including the Southern Resident Killer Whale population that visits these waters in the summer months. 
Because this tour primarily travels in known orca territory, it gives you some of the best chances to view orcas by sea kayak. Orca encounters by kayak are a once-in-a-lifetime experience and should be seen as such.  San Juan Outfitters gives you the best chances to view orcas by kayak, but it is important to remember you will be covering a small amount of their habitat and orcas have to come to you in a kayak.
Begin your adventure with a departure from San Juan County Park located on the west side of San Juan Island. Paddle south past the iconic Lime Kiln Point State Park and Lighthouse before turning north to Stuart Island Marine State Park, where you'll camp for one or two nights.
Camp on Stuart Island for one or two nights. Stuart Island is one of the most northwestern islands in the San Juan archipelago and is only accessible by private boat or sea kayak. Camping on Stuart Island for two nights allows more opportunity for exploration on and around Stuart Island, without having to repack and relocate for a second night of camping.
Stuart Island Marine State Park offers an easy three-mile hike to the iconic Stuart Island Light Station on the northwestern point of the island. This, along with Lovers Leap, is a favorite sunset viewpoint with sweeping views of the Canadian Gulf Islands.
Return to Roche Harbor, San Juan Island on the final day of your adventure. The Whale Sanctuary Itinerary can be done as a 2 or 3 day adventure. 
Contact Us For Reservations!
Sample Itinerary
Depending on your interests and group size, some itinerary items can be amended to give your group the best trip!  Want more camp time or more paddling? Let us know!
We email a pre-trip questionnaire prior to your tour to make sure we provide the best tour possible for your family.
Please note that times/activities may change due to tides and weather.
Day 1
Meet at our Roche Harbor departure location by 8:30 am. Depart by van to San Juan County Park for kayak departure
Push off from the beach at San Juan County Park by 10 am
Traverse through the proposed killer whale sanctuary on the west side of San Juan Island 
Paddle to Posey Island for lunch on Washington State's smallest State Park
Arrive to Stuart Island around 4 pm
After camp is set up, enjoy some downtime in camp, a hike, or tide-pooling.  Your guide will be prepping a freshly made dinner!
Dinner at 6:30 pm
Take an evening paddle, build a camp fire (burn bans permitting), or do a sunset hike to finish the day
Day 2 (Middle Day of 3-Day Tour)
Start the day with a hot breakfast and french press coffee
Day paddle through a spectacular section of islands, passing along the shorelines of Stuart Island, John's Island, and the Cactus Islands, a beautiful chain of small islands located east of Stuart Island. 
Another fabulous dinner back in camp and end the day with activities or down time
Day 2/3 Final Day
After a delicious hot breakfast and brewed coffee, pack up camp to be launching by 10am
Cross Speiden Channel, paddling toward San Juan Island enjoying views of the channel, Speiden Island, and the Canadian Coastal Mountains
Arrive to our docks in Roche Harbor by 2pm – do not plan off island travel prior to 4:30pm.  Return time is subject to change due to tides and weather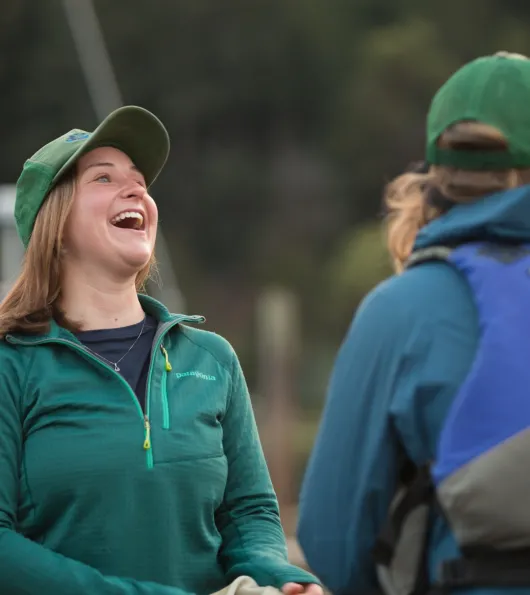 OUR GUIDES AND ATTENTION TO CUSTOMER SERVICE IS AMAZING
Why San Juan Outfitters for your Adventure?
Our guides are AMAZING! 
Our guides are the best in the industry, and are hand selected to join our San Juan Outfitters staff. All guides have degrees or backgrounds in biology, ecology, or outdoor recreation, and some are K-12 educators during the school year. Our guides are great at working with kids and making sure that your tour is fun and exciting for all ages! San Juan Outfitters' guides participate in rigorous safety training with Seattle Adventure Sports and Body Boat Blade in addition to biweekly safety training sessions. Safety is, and will continue to be, our #1 priority.
Attention to Customer Service
We make sure to provide the highest level of customer service from start to finish to make sure you feel great when booking with San Juan Outfitters.  We are open daily and happy to help answer questions about your tour, San Juan Island, or any part of your trip to make sure you travel with ease.