Roche Harbor 3 Hour Kayak Tour
Primary tabs
Roche Harbor 3 Hour Kayak Tour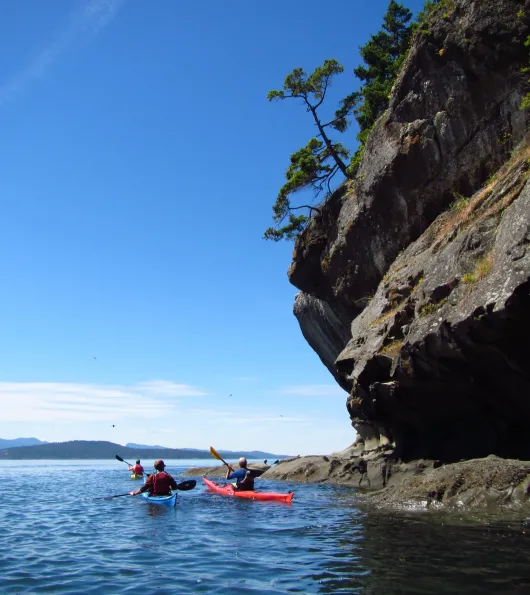 on the northwest corner of San Juan Island
Departing from our exclusive location in Roche Harbor
3-Hour Kayak Tours are perfect for paddlers of all experience levels and those working with limited time.
Our custom finger slip kayak dock means you start the trip with no wet feet! On a 3-hour kayak tour, we expect to stay in the kayak for the duration of the tour, which is about 2.5 hours of paddle time. The first 30 minutes of the tour cover gear and safety to make sure each guest feels comfortable and safe in the kayak. San Juan Outfitters has the lowest guest-to-guide ratio in the San Juans! San Juan Outfitters' 3-hour kayak tours take just 10 guests to each trained naturalist guide and our guides are knowledgeable, fun, and the best trained in the industry. 
Learn how to pack for your guided sea kayak tour in the San Juans.
Departing from Roche Harbor, on the northwest end of San Juan Island, this tour offers magnificent views of the Olympic Mountains, Vancouver Island, and both American and Canadian islands of the Salish Sea. Paddle over to and along the west side of Henry Island and Battleship Island while searching for eagles, harbor seals, sea stars, and urchins. These are just some of the critters you will see out on the water!
What to Bring & Wear: 
Warm layers and/or quick drying clothes
Wind breaker
Footwear you don't mind getting wet
Camera and/or binoculars
Sun protection
Snack
Water bottle
Please no alcohol, tobacco, or marijuana.