Roche Harbor Orca Search By Kayak
Primary tabs
Roche Harbor Orca Search By Kayak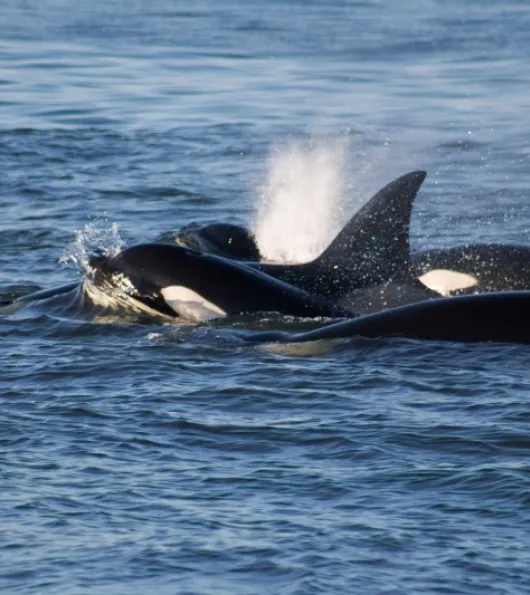 More wildlife, more challenge
Looking for a little more?
The 5 Hour Orca Search by Kayak is best for paddlers looking for a little more time on the water, an extra challenge, and the best opportunity to spot the most wildlife in the San Juans.  Added time on the water and more ground covered means your chances of viewing wildlife, especially orcas, is greatly increased.  
Departing from Roche Harbor, the Orca Search circumnavigates Henry Island, a small mostly undeveloped island just northwest of San Juan Island.   You won't repeat any ground on this loop itinerary.  Stop on a pebble beach for a home-packed picnic lunch and a chance to stretch your legs.  Enjoy sweeping views of the Olympic Mountains, Haro Strait, Vancouver Island, and the Canadian Gulf Islands. Give yourself the best opportunity to see eagles, seals, porpoises, and invertebrates in their natural habitat.
A staff favorite, the 5 Hour Orca Search by Kayak is one of the best day tours in the San Juans!
Paddling primarily in the Haro Strait, this itinerary gives you the best chances of encountering an orca by kayak.  Viewing an orca by kayak is a once-in-a-lifetime experience and San Juan Outfitters gives you the highest percentage of success.  Our kayak guides communicate with our whale watch captains in real-time and know of any possible sightings within our sea kayak tour's range.  While orca encounters do happen, it is important to remember orcas can travel up to 100 miles per day and over 30mph, and you will be paddling in a small section of their habitat. If encountering orcas is on your bucket list, consider joining our Adventure Whale Watch and Wildlife tour by vessel to maximize your percentage of sucess.
The 5-Hour Orca Search by Kayak is best for paddlers that are in good physical shape. The total paddle time is approximately 4.25 hours. Similar to a day hike, it is not uncommon to feel sore and/or fatigued after your tour. 
What to Bring & Wear: 
Light Clothing that dries quickly (avoid heavy cottons)
Comfortable Footwear (Sport Sandals w/ Heel ideal)
Sunglasses
Hat
Camera
Sunscreen
Bag Lunch
Snacks
Water bottle
Please no alcohol, tobacco, or marijuana.