Guided San Juan Island Multi-Sport Tours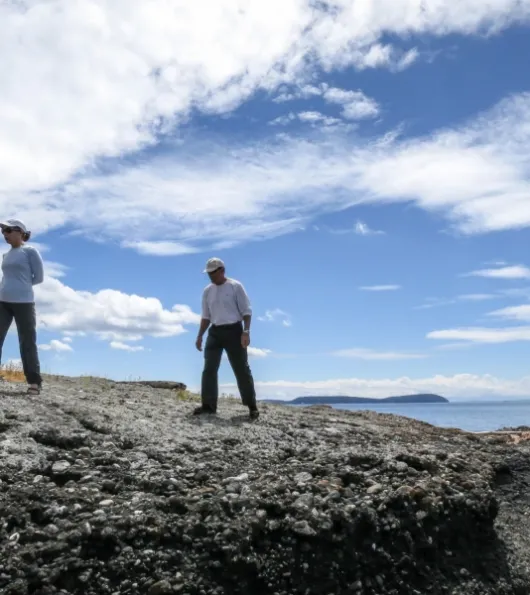 Multisport tours are great for visitors who are
Seeking an All-Inclusive Adventure?
Our multiport tours highlight the best of the San Juan Islands. Hike to panoramic view points in the San Juan Island National Historic Parks, road cycle through iconic San Juan Islands Scenic Byways and past local farms and orchards, and sea kayak along rugged coastline with expansive ocean views, snow covered mountains, and lots of marine wildlife. This includes orca whales, seals, sea lions, eagles, and more.
Multisport tours are custom itineraries and are uniquely created for each group. Most itineraries include 2-3 days of sea kayaking, 2 days of cycling on San Juan Island and Orcas or Lopez Islands, and 1-2 days of hiking and sighting seeing. We are flexible and creative, and would be happy to plan a multisport adventure for your group. 
Tour Dates and Rates
Contact Us For Reservations!
Sample Itineraries 
Our most popular multisport tour is our 6-day trip with Inn based lodging. This tour features 2-3 days of sea kayaking, 2 days of cycling San Juan and Orcas or Lopez Islands, and one day of hiking & sightseeing in the islands. While our most popular multisport tour is the 6-day, multisport activities can be added to any of our standard sea kayak tours to create the ideal San Juan Island adventure. Please call or email for reservations and availbility. 
A typical multisport tour will include:
Kayaking: 5 – 7 hours broken up with meals, recovery time, and free time. See sea birds, seals, bald eagles, and intertidal zone creatures all while paddling in the waters surrounding the San Juan Islands. The San Juan Islands are home to one of the most diverse ecosystems in the entire world, and they best way to experience this is by sea kayak. 
Bicyling: 5 – 7 hours broken up with meals, recovery time, and free time at scenic overlooks such as the Lime Kiln Point State Park. Experience the spectacular natural beauty and relaxed rural lifestyle of San Juan Islands on a bicycle. Bike tours visit San Juan Islands local farms, wineries, and/or orchards. Guests learn about local and sustainable agricultural communities.
Hiking: 5 – 7 hours broken up with meals, recovery time, free time, and time at scenic parks with amazing panoramic views such as Mount Young, Mount Grant Preserve, and Mount Finlayson.
Whale Watch & Wildlife Vessel Tour: Nearly all multisport tours include a 3-4 hour boat based whale watch and wildlife tour. For those guests looking for an extra exciting excursion, we recommend a whale watch tour on the Adventure Vessel, Kestrel. 
All-Inclusive Multisport Tours
Our all-inclusive San Juan Outfitters multiport tour includes top of the line gear and fresh meals. All you need to pack is your personal clothing and toiletries, which we make easy by providing you with a packing check list. All gear including required camping equipment, sport specific sea kayak equipment, and hybrid Cannondale brand bikes are provided for your multisport tour. All meals from lunch on day one through lunch on the final day are prepared fresh in the field by your guide.
A La Carte Multisport Tours
For guests limited on vacation time, we suggest adding a day of cycling and a day of hiking (including visits to local farms, wineries, and/or scenic parks) to our 2-day or 3-day kayaking tour. We can help you choose your own a la carte lodging, dining, and transportation during your San Juan Island adventure.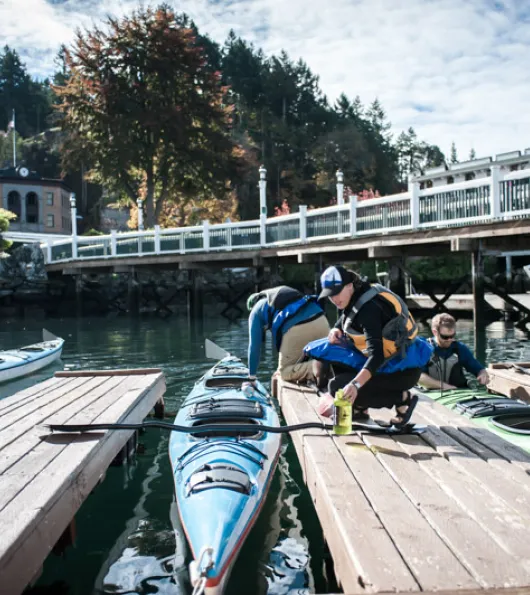 OUR GUIDES AND ATTENTION TO CUSTOMER SERVICE IS AMAZING
Why San Juan Outfitters for your Adventure?
Our guides are AMAZING! 
Our guides are the best in the industry, and are hand selected to join our San Juan Outfitters staff. All guides have degrees or backgrounds in biology, ecology, or outdoor recreation, and some are K-12 educators during the school year. Our guides are great at working with kids and making sure that your tour is fun and exciting for all ages! San Juan Outfitters' guides participate in rigorous safety training with Seattle Adventure Sports and Body Boat Blade in addition to biweekly safety training sessions. Safety is, and will continue to be, our #1 priority.
Attention to Customer Service
We make sure to provide the highest level of customer service from start to finish to make sure you feel great when booking with San Juan Outfitters.  We are open daily and happy to help answer questions about your tour, San Juan Island, or any part of your trip to make sure you travel with ease.